Filter by Category
Mixed Media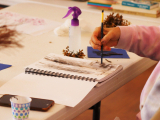 Mixed Media Drawing
with Alice Salyer

Sep 3, 2022 at 10 am

, runs for 5 weeks
Grade 9- Adult
Mixed Media Drawing builds upon a foundation of drawing, while expanding the possibilities with a multitude of mediums. Each week focuses on different materials and techniques. A world of color, texture and composition will be explored, using techniques from printmaking, painting and even textiles! Students are encouraged to explore processes such as collage and abstraction. Art historical movements and themes provide inspiration for student work using both contemporary and traditional art materials. All skill levels are welcome!
10:00 - 12:00 am, Saturdays, September 3, 10, 17, 24, and October 1.
Shadow Puppet Workshop
with Faith Belt

Oct 15, 2022 at 9 am
Grades 9 - 12
Come and explore the world of light and shadow in this one-day workshop!  Students will make at least 2 articulated shadow puppets and a screen for their own puppet theatre.  No experience required.
Saturday, October 15, 9:00 am - Noon.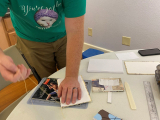 Sketchbook Making Workshop
with Faith Belt

Nov 5, 2022 at 10 am
Grades 9 - 12
In this workshop students will be making their own sketchbook using coptic stitch binding.  They will learn basic bookmaking skills and tips.  Students will also get to make their own custom covers and endpapers!  No prior knowledge is required.
Saturday, November 5, 10:00 am - 1:00 pm.