Filter by Category
Drawing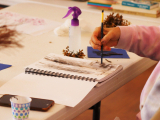 Mixed Media Drawing
with Alice Salyer

Sep 3, 2022 at 10 am

, runs for 5 weeks
Grade 9- Adult
Mixed Media Drawing builds upon a foundation of drawing, while expanding the possibilities with a multitude of mediums. Each week focuses on different materials and techniques. A world of color, texture and composition will be explored, using techniques from printmaking, painting and even textiles! Students are encouraged to explore processes such as collage and abstraction. Art historical movements and themes provide inspiration for student work using both contemporary and traditional art materials. All skill levels are welcome!
10:00 - 12:00 am, Saturdays, September 3, 10, 17, 24, and October 1.
Adventures in Drawing
with Sharon Squibb

Sep 12, 2022 at 5:30 pm

, runs for 10 weeks
Grades 9 - ADULT
This class explores basic drawing techniques and how to use a variety of drawing media: pencils, color pencils, oil pastels, chalk pastels, charcoal, and pen & ink.  The instructor will provide step-by-step instruction with demonstrations of each new technique.  Students will do a number of studies and finished pieces using each media/technique.  Students of all levels are welcome!
5:30 - 7:00 pm, Mondays, September 12, 19, 26, October 3, 10, 17, 24, 31, November 7, 14.
Zentangle from A to Z
with Kay Grogg

Sep 13, 2022 at 6 pm

, runs for 4 weeks
Grades 9 - ADULT
The Zentangle Method of drawing is an easy-to-learn, relaxing, and fun way to create beautiful images by drawing structured patterns.  In this course, we will start with the beginning steps and move each week to a more advanced project, building on the previous week's lessons.  We will work with a variety of Zentangle supplies throughout this class.  The instructor, Kay Grogg, is a Certified Zentangle Teacher (CZT) and will guide the class to greater understanding of this method of drawing and how you can use it in your everyday creative practice.
Tuesdays, 6:00 - 8:00 pm, September 13, 20, 27, October 4
Payment plan available: $25 deposit plus 1 payment of $98.00, paid every four weeks.