Filter by Category
Storytelling & Story Collecting
Creative Circle Writers Group
with Jules Corriere

Feb 23, 2023 at 10 am

, runs for 10 weeks
Ages 15- Adult
This writers group meets on the second and fourth Thursday of the month at the McKinney Center. The group this year will focus on developing and generating stories for possible use in the monthly radio show "StoryTown Radio Show and Podcast" which performs at the McKinney Center and airs on WETS 89.5 FM. The group will also develop stories and pieces for other special story-based programs that are part of the StoryTown Initiative. In addition, members are encouraged to bring creative works to develop for their own purposes. Techniques in writing for radio and the stage are regularly discussed. 
10:00 am - 11:30 am, Thursdays, February 23, March 9, 23, April 13, May 11, 25. (No class on April 27). Class will meet every 2nd and 4th Thursdays.
Story Collecting - ONLINE
with Jules Corriere

Apr 12, 2023 at 6 pm

, runs for 4 weeks
Ages 15 - Adult
This four-part online class is designed for those interested in collecting oral stories from family members, neighbors, veterans, and community members. Participants learn how to conduct one-on-one interviews as well as how to hold story circles through a combination of class instruction and hands-on training, covering such skills as generating effective questions, finding potential storytellers, creating the best environment, as well as proper use of recording equipment. Participants each receive a PDF guidebook which follows the training course and Power Points. All who complete the course will be certified story collectors for Jonesborough's StoryTown Programs. All Participants are encouraged to continue using the skills learned in this class by becoming a StoryTown Brigade member, and to collect stories from Washington County community members for use in Jonesborough's StoryTown programs, which include a monthly radio show, podcast, annual play, and other projects.
6:00 - 7:00 pm, Wednesdays, ONLINE, April 12, 19, 26, May 3.
Will run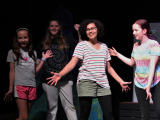 Play-In-A-Week Camp
with Jules Corriere

Jun 12, 2023 at 9 am

, runs for 1 week
Ages 11 - 17
Class Limit:  16
Can you make a play in a week?  You will get the chance to do this at the McKinney Center THIS SUMMER!
Starting from scratch, students will work alongside professional theatre makers to create an original performance in just one week.  You will develop a range of performance skills and learn technical theatre skills working alongside practicing artists.  You will also make new friends and have a lot of fun in the process.
There is even a free lunch club from Noon - 12:30, where you can hang-out and have lunch with directors, designers, choreographers, poets, and musicians.
Spots for, Play-In-A-Week, are limited to 16 students, and is expected to fill up quickly.  Register early to avoid disappointment.
This camp is partially funded by the Tennessee Arts Commission.
A confirmation email will be sent to you upon registration with further information and tips regarding summer camp.
June 12, 13, 14, 15, 16, and 17.
9am - 2pm
FINAL PERFORMANCE and "tailgate" lunch at 2pm on Saturday, June 17.
Will run