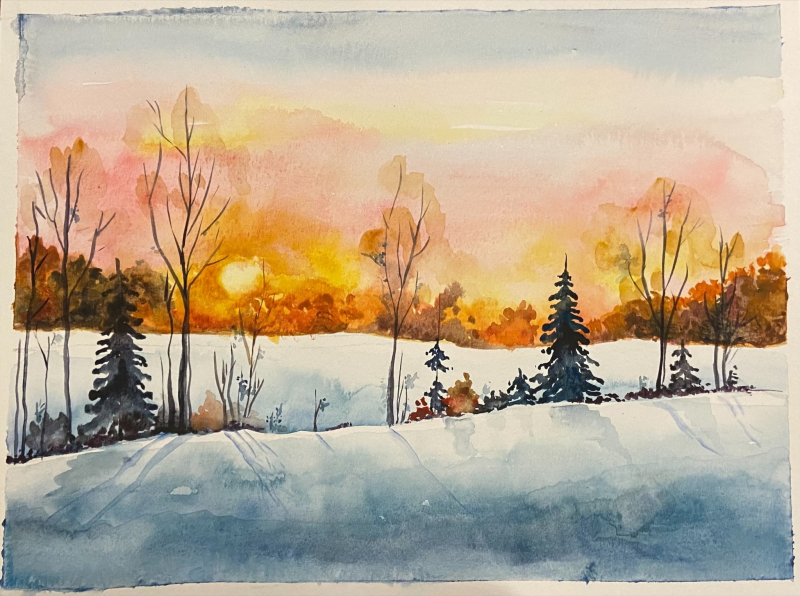 Watercolor - Intermediate Level - ONLINE CLASS
with Sharon Squibb
$10900
Register
Only 3 days left to register and 3 seats left!
Grades 9 - Adult
This is a class for students who would like to explore watercolor painting from home. It continues the study of watercolor techniques introduced in Fall Semester's Basics of Watercolor online class, but it is open to all students who wish to experience watercolor painting. Zoom instruction includes step-by-step projects designed to guide you through the painting process from start to finish. The course will offer a variety of special techniques and approaches to making watercolor paintings of different subjects. Students will work on paintings along with the instructor as she demonstrates the steps. You will also receive emails with detailed Power Points so that you may practice further or complete a piece at home. Each session will also be recorded. Students will receive a supply list after they register. Students may purchase their own supplies or through the McKinney Center for an extra $50.00. If purchased through the McKinney Center materials can be picked up prior to class (if given proper notice).
Cost is $109 plus supplies
5:00 - 6:30 pm, Wednesday ONLINE, February 8, 15, 22, March 1, 8, 15, 22, 29, April 5, 12.
Feb

8

-

Apr

12th

,

2023

Wed

for

10 weeks

from

5:00 - 6:30 pm

Will run
Online Class
For more info, call us at (423) 753-0562