Filter by Category
Workshops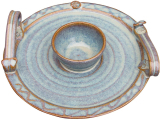 Ceramic Party Platter Workshop
with Kara Bledsoe

Jul 16, 2021 at 10 am
All ages welcome!  Children ages 12 and under should register with an adult.
Class Limit:  8 students
In this one-time workshop, students will learn to build their very own party platter using hand-building clay techniques.  This class will take place in the McKinney Center's spacious auditorium with a maximum of 8 participants.  Sign up with your family and friends and have some creative fun!
There will be a 30 minute break so bring a bag lunch and snacks!
Registration fee includes all supplies, clay, glazes, two kiln firings, etc.  Students should bring an old hand towel or kitchen towel.  We will provide aprons but students can bring their own and wear clothing and shoes that you don't mind getting messy!  
July 16, 10:00 a.m. - 2:00 p.m.     A 30-minute lunch break will be provided.
For our Infection Disease and COVID-19 Procedures, please click this link:
https://mckinneycenter.com/wp-content/uploads/2020/06/Infectious-Disease-PolicyR-1.pdf