Filter by Category
Teen Painting
Acrylic Painting Workshop
with Beverly Thomas Jenkins

Apr 2, 2021 at 6 pm

, runs for 1 week
Grades 9 - Adult
This workshop is for the person who wants to try painting without having prior knowledge of painting.  Students will be creating a beautiful vase of flowers.  The style is intuitive, casual, absract  The canvas is a 9x12" flat board which will fit a frame of your choice (not included).  This is a great workshop to take with family or friends!  
You can also reserve a private workshop with a minimum of 6 guests!  Please call the McKinney Center to make this reservation.
6:00 - 9:00 pm, Friday, April 2
Fairy Garden Cottages
with Kay Grogg

Apr 3, 2021 at 10 am

, runs for 2 weeks
Grade 9- Adult
Create a magical fairy garden this spring by learning how to make mini houses using flower pots, paint, and natural elements. Each participant will make at least one fairy house and will learn how to decorate other areas of a fairy garden using sticks, pinecones, and found items. This will be a fun and magical class that is sure to please the fairies who visit your garden this spring.
10:00 am - Noon, Saturdays, April 3, 10
Will run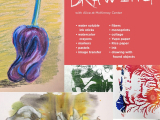 Mixed Media Drawing - Session 2
with Alice Salyer

Apr 24, 2021 at 9 am

, runs for 6 weeks
Grade 6- Adult
Our new Mixed Media class builds upon a foundation of drawing, while expanding the possibilities with a multitude of mediums. Students will learn how to create varying degrees of line width using pen & ink; while also being introduced to brush pens -- creating smooth, flowing energetic lines. A world of color, texture and composition will be explored, using techniques from printmaking, painting and even textiles!  Students are encouraged to explore processes such as collage and abstraction.  All skill levels and ages are welcome! This class will transition to online if the need arises.
9:00 - 11:00 am, Saturdays, April 24, May 1, 8, 15, 22, 29
Payment plan available: $25 deposit plus 2 payments of $55.50, paid every four weeks.