Filter by Category
Pre-Teen and Teen Ceramics
Casting and Mold Making with Plaster - Workshop
with Jess Parks

Apr 24, 2021 at 1 pm

, runs for 1 week
Grades9 - Adult
Learn how to make a simple 2-piece plaster mold of a small 3-D, solid item. Each step of the process will be discussed and executed with the instructor's assistance. After making the mold, wet plaster will then be poured into the cavity, to create your own unique cast. All materials and tools will be supplied. 
1:00 - 4:00 pm, Saturday, April 24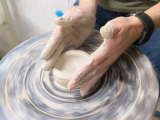 Pottery Wheel - Mugs - 2 Day Workshop
with Kara Bledsoe

May 11, 2021 at 10:30 am
Grades 5 -Adult
Enjoy a relaxing two-day workshop creating four beautiful mugs! Students will spend the first day on the potter's wheel creating the mugs. On day two, students will trim mugs and learn decorating techniques. The goal is for each student to accomplish making four mugs.  Masks will be required due to close contact during demonstrations and one-on-one instruction.
Tuesday, May 11, and Thursday, May 13.