Filter by Category
Pre-Teen and Teen Art
Crochet Bowls Workshop
with Nancy Bouffard

Oct 17, 2020 at 2 pm
Ages 6 to Adult
In this three-hour workshop students will build a functional vessel using fiber and single crochet stitches.  Choose from a variety of jute and yarn or bring your own materials.  Students will leave with a unique creation and ability to make this item at home.  Some crochet experience is helpful but not necessary.
This class will transition to online if the need arises.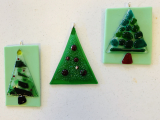 Glass Christmas Ornaments
with Karen Hitchcock

Nov 3, 2020 at 6 pm

, runs for 1 week
Grades 9- Adult
Whether students are experienced in glass fusion or have never been near a glass studio, this workshop is a great opportunity to have fun with a group of people making fused glass ornaments.  Students will have an opportunity to make up to eight ornaments using sheet glass, frit, pre-fired components and more.  All materials are included and fired projects will be available two weeks after class.
Will run
Pottery Wheel - Plates - 2 Day Workshop
with Kara Bledsoe

Nov 10, 2020 at 10 am

, runs for 1 week
Grades 5 -Adult
Enjoy a relaxing two-day workshop creating four beautiful plates! Students will spend the first day on the potter's wheel creating the plates. On day two, students will trim plates and learn decorating techniques. The goal is for each student to accomplish making 4 plates.  Masks will be required due to close contact during demonstrations and one-on-one instruction.
Tuesday, November 10 and Thursday, November 12.